Our Prevention programs provide the following services:

DrugFreeAZKids.org is a program of Southwest Behavioral & Health Services that has been endorsed by the Arizona Association of Chiefs of Police for outstanding work in prevention. We inspire people to feel better and reach their potential. Through helping people discover their strengths, we improve our communities. Our mission is to prevent and reduce youth drug and alcohol use through community education and awareness by providing parents, caregivers, healthcare providers, educators and others with educational tools, information and resources. This project is supported by The Governor's Office of Youth, Faith and Family (GOYFF) and the Arizona Parents Commission on Drug Education and Prevention.
Our Programs for Parents and Youth:
Active Parenting Workshops - Available in English and Spanish
For parents of kids ages 5-18
Six 2-hour sessions
Daytime, over lunch or evening
Workbook and handouts included
AZ Parents Connect Presentations - Available in English and Spanish
1-hour AZ Parents Connect presentations
Underage alcohol and drug use and what to do
Trends in substance abuse
Padres Promotores Program
A peer-to-peer education program based on the promising practices of the Promotora/Community Health Worker Model.  Topics include:
Prescription drug misuse and abuse prevention
Overview of the risks and misconceptions of marijuana use among youth
Alcohol use and youth health impacts
Youth Life Skills Program
Available for 6-8th grade students at selected schools in Maricopa County School Districts
10-15 lessons based on the Too Good for Drugs curriculum
Youth Leadership Program
Available for 6-8th grade students at selected schools in Maricopa County School Districts
Various community service activities
Awareness trainings about risks and consequences of substance abuse
Self development activities
For more information, visit www.DrugFreeAZKids.org.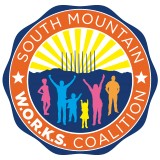 South Mountain W.O.R.K.S. Coalition, funded by a Drug Free Communities grant from SAMHSA, seeks to reduce youth drug and alcohol use in the South Mountain community of Phoenix, Arizona. The coalition's mission is to educate, equip and empower community members to create a healthy and drug free future for children, youth and families.
Coalition activities include:
Community Education Presentations, workshops and seminars regarding underage drinking and drug use (i.e. social access, perception of harm, consequences, prevention and treatment resources) offered to the community free of charge.
Public Information and Social Marketing (PISM) Alcohol and drug related information, resources and media materials disseminated to the community through health fairs, electronic and print media, and public service announcements.
Youth Leadership/Council Youth in South Mountain participate in workshops and meetings designed to empower youth with skills to become leaders and role models in their communities. Youth participate in community service events, learn to develop events and campaigns, and provide presentations to their peers helping prevent underage drinking and drug use.
Community Development The establishment and maintenance of collaborative partnerships with community stakeholders through the SM W.O.R.K.S Coalition fostering environmental change to reduce underage alcohol and drug use in South Mountain.
Ways to Get Involved:
Host a Community Presentation
Become a Community Presenter
Attend Coalition Meetings
Volunteer at Community Events
Participate in the Community Views Survey
Help with Data Collection
Join a Subcommittee
Take the Pledge to Not Provide Alcohol to Minors!
Join a Coalition Subcommittee: Marketing and Public Relations, Policy and Sustainability and Community Events and Activities
For more information, visit www.southmountainworks.org.
SB&H is a proud member of the South Mountain W.O.R.K.S. Coalition; click link to find us on Facebook.
To learn more about the prevention services at Southwest Behavioral and Health Services, please contact Thalia Williams, Director of Prevention Programs: 602-305-7126, ext. 3352.