Frontdoors Media Feature; Phoenix, AZ
The nonprofit world has been immensely disrupted by the coronavirus pandemic, especially when it comes to fundraising. As Americans struggle with the economic and public health realities of COVID-19, nonprofits are trying to do more with fewer resources. That's why many nonprofits are relying more than ever this upcoming year on tax credit contributions, which provide donations to nonprofits while giving donors a break on state income taxes. The State of Arizona offers an opportunity to receive a dollar-for-dollar credit on your state income taxes when you donate to qualified organizations.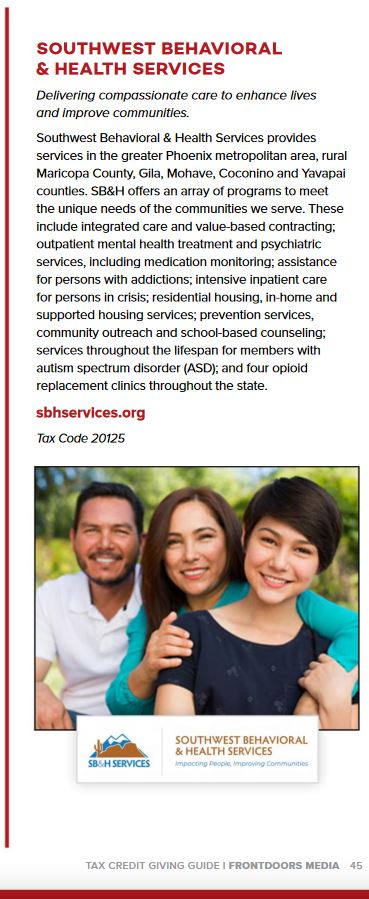 Donate By Credit Card  •  Donate By Cash or Check  •  Donate Other Items
You Can Help...
Your tax-deductible cash contribution will be greatly appreciated and put to immediate use by enabling us to help those who are in the greatest need of assistance.
Mail Check Donation / Drop Off Cash Donation
Southwest Behavioral & Health Services Inc.
3450 North 3rd Street
Phoenix, Arizona 85012
Federal Tax ID: 86-0290033
Donate Other Items
Water, socks, hygiene kits (including toothpaste, toothbrushes), sunscreen, shoes, lip balm, hats or caps, lightweight t-shirts, underwear, art/craft supplies and musical instruments.
To donate the above items please contact 602-265-8338.
Credit Card Donation
(Use your credit card to donate through our PayPal account)
Disclaimer: As a non-profit 501(c)(3) organization, donations to Southwest Behavioral Health Services may be eligible for deduction on your state and federal income tax returns. A written receipt will be sent to you to as support documentation as required by the IRS. Please consult your personal tax advisor to determine your eligibility for the deduction. Please note that contributions are non-refundable.