Southwest Human Development (SWHD) has joined us as Arizona's largest nonprofit dedicated to early childhood development to deliver a full range of services for young children ages 0 to 5 with ASD and their families.
These services will include: screening, evaluation, assessment, intervention planning, treatment, care coordination, and parent support.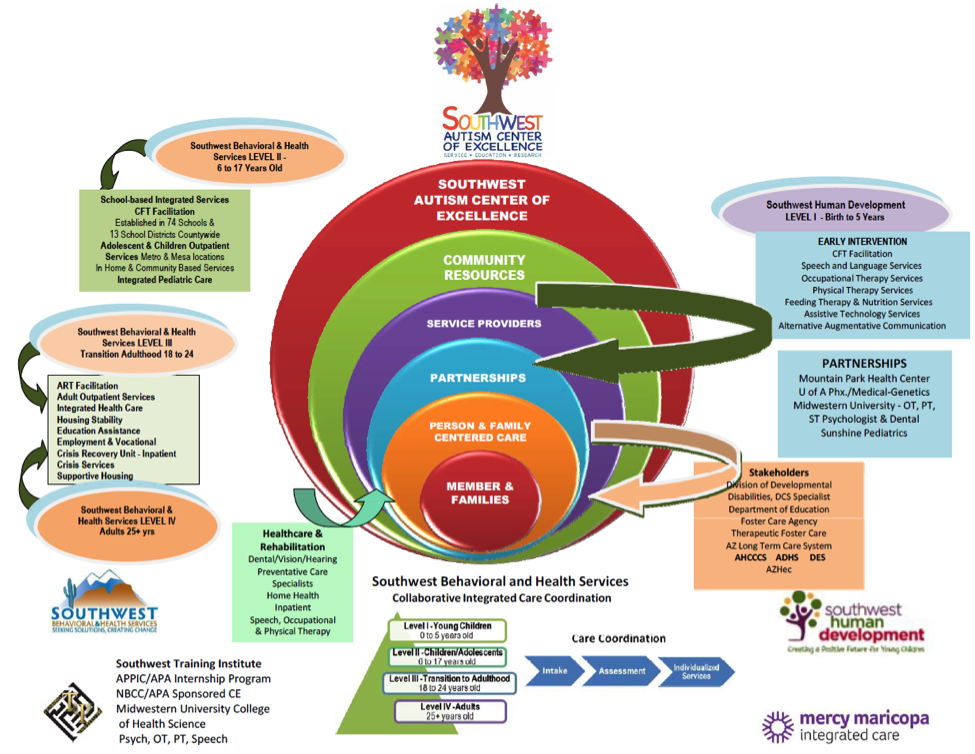 SWHD staff strive to help children establish a healthy foundation by preventing problems before they arise, or when they already exist, intervening as early and effectively as possible.
We have developed a Community Training Internship with Midwestern University including Psychiatry, Medical, and Allied Professions (i.e. speech, OT, PT, dental, medical.)
Sunshine Pediatrics, (established by  Maritza Irizarry, MD)  has a focus on serving Hispanic families, Their partnership includes involvement in child and family team care plans, relationships with ASD specialties services, and participation with SACE to ensure culturally appropriate services.
SACE has also partnered with Mountain Park Health Center, offering Patient Centered Medical Home/dental services including dental, vision and healthcare services as part of our integrated care plan.
SACE is also partnering with University of Arizona, School of Medicine's Graduate Interdisciplinary Program (GIDP) in Genetics. GIDP's purpose is to facilitate interdisciplinary training and research in genetics, genomics and systems biology. One of the Faculty Research Genetics Focus Areas is in Neurobiology and Behavior - the study of cells of the nervous system and the organization of these cells into functional circuits that process information and mediate behavior.
Autism spectrum disorders (ASD), is characterized mainly by hypo-sociability and is a neuropsychiatric disorder with prominent social behavior abnormalities. Within the evaluation process, all SACE members will have the opportunity to receive genetic testing aimed at concerns relating to family history, and various concerns deemed as appropriate.
Working with the Dean and Facility at the U of A Genetics GIDP, the SACE partnership will be committed to increase ASD focused interdisciplinary training, research and knowledge as well as promoting findings and sharing data with community providers.